OCTOBER 2019 FIRST TIME CAMPER PROGRAM REGISTRATION COMING SOON!
Program dates just announced:  SUNDAY, OCTOBER 13TH & MONDAY OCTOBER 14TH – Save the Date!
Are you a Camper?  Fall Campout Camper registration is now online:  https://www.brownpapertickets.com/event/4272203
Are you a Program Volunteer?  Fall Campout Volunteer registration is now online:  https://m.bpt.me/event/4272217
The Spring 2019 Program Brochures are linked below if you would like to preview our program.  The Fall Brochures will be online soon:
Visit the First Time Campers website for full details, to volunteer and to register.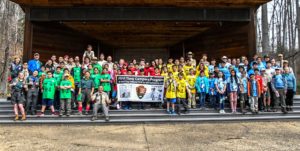 Wolf Trap National Park for the Performing Arts, in conjunction with the Friends of Wolf Trap (FOWT) and Scouts BSA Troop 55 (Great Falls, VA) sponsors a camp out for Fairfax County 5th & 6th graders in the spring and fall each year. The campout helps campers learn new skills, demonstrate that outdoor activities can be fun, teaches them about different aspects of nature and fosters a meaningful connection to the natural world.
This is an opportunity for youth to learn to become comfortable with the outdoors, have fun and build confidence, while not venturing too far from home. This is also a great way for parents to learn to become more comfortable that their child can thrive independently.
The program provides tents for the event for the elementary school campers and local Boy Scout Troop 55 will be lending some troop gear (stoves and Dutch ovens). Scouts will lead a campout program for the participants which will include instructing on camp set up, working with gas camp stoves, cooking & clean up instructions, exploring the beauty of the nature park, conducting community service, participating in camp fire (under special permit) activities such as skits and s'mores, and completing a backstage tour of the Wolf Trap Performing Arts Filene Center.
Activities planned for the camp-out experience include: archery, fly fishing, bird watching, nature tours, community service, and performances on the local stages.
Visit the First Time Campers website for full details on this unique and outstanding program.