First Sunday Walk & Learn hike – 2017
Wolf Trap First-Sunday walk & learn hike
Audubon Society of Northern Virginia member Jean Tatalias will lead an easy birding hike on Sunday October 1, 2017 at 9 AM 11 AM.  Meet at the Filene Center Box Office.  Park in the circle or lower lot. We will follow the trail along the Park's streams, hills and meadows. Bring or borrow binoculars, dress for the weather and wear shoes suitable for 2 miles of trails that can be damp or uneven in some stretches. Fun for the entire family.
The hike is starting earlier than usual because the birds are more active in the morning.  Green Spring Master Gardeners will guide hikers through the Woodland Garden behind the Filene Center & explain the plantings.  The hike will also feature the history, culture, and natural aspects of Wolf Trap National Park for the Performing Arts.
This walk has been inspired by the First Day hike at the park on January 1, 2017 when eighty people from all age groups participated.  We plan to offer these walks the first Sunday of the month starting at 1 PM except during the hot months of July, August, & September when they will start at 10:00 AM.
The Sunday & special event hikes are meeting a demand as reflected in the number of people participating.  The numbers are:
Date Participants
January 1 80
March 5 16 (biodiversity hike; First Sunday hike)
April 2 20 people
May 7 20 people
May 14 50 people (special Mother's Day bird hike)
June 4 10 people
July 2 22 people; 2 dogs
August 6 35 people; 3 dogs
September 3 28 people
October 1 45 people
---
Friends of Wolf Trap is partnering with Plant NOVA Natives that advises:
Get paid to mow less!
How would you like to be paid to improve the landscaping on your own property? The Virginia Conservation Assistance Program (VCAP) – available for both private and community properties – does just that.
Although lawns may look natural, in fact they cause trouble for the environment. The streams of Northern Virginia, and ultimately our drinking water and the Chesapeake Bay, have been seriously degraded by storm water rushing off of impervious surfaces. Buildings, roads, and parking lots are the first problem, but lawns are not much better at slowing down the flow of water. This concern is so great that the state of Virginia offers 75% matching grants for a variety of storm water retention projects, including simply replacing lawn with conservation landscaping using native plants. Since turf grasses are non-native plants that provide no sustenance to wildlife, replacing some of it with native plants has the additional benefit of turning our properties into wildlife sanctuaries.
There is no telling how long these grants will last, and the process takes several months, so it would be wise to look into it soon for a spring planting. Click here for details and for practical advice about working with native plants. The results can be spectacular. Herndon Friends Meeting just installed conservation landscaping, partly thanks to a $3500 grant. There is still enough lawn for the kids to run around, but soon they will be joined by butterflies and birds enjoying the habitat as well.
---
Wolf Trap National Park for the Performing Arts was voted by readers of DC's City Paper as the Best Outdoor Venue for the 10th year in a row! Congrats to the Wolf Trap Foundation and the park staff!  Being voted Best Outdoor Venue 11 years in a row is practically guaranteed with this summer's Wolf Trap concert lineup.
---
The Wolf Trap First Time camper tradition of camping in the rain was continued during the 22-23 April 2017 event.  Twenty-nine Fairfax County 5th & 6th graders including 18 Title I kids participated. Campers learned how to put up their tents and cooked/cleaned up after their meals. The campers participated in archery, fly casting, bird watching, pollinator study, a Filene Center backstage tour, a short hike, & invasive plant removal.  The heavy rain on Saturday did not seem to dampen their enthusiasm.  Fortunately, the rain moved out on Sunday for the hiking, backstage tour, invasive plant removal, & animal antics activities.
Super Activities were presented by: Archery for Scouts, Orvis Tysons, Audubon Society of Northern Virginia, Green Spring Master Gardeners, Meadowlark Botanical Gardens, Friends of Wolf Trap
This was the sixth camp out sponsored by Wolf Trap National Park for the Performing Arts which are held in the spring & fall outside the performance season.  Great Falls based Boy Scout Troop 55 & Venture Crew 364 youth leaders ran the camp out supported by adult leaders.  Click here for photos of the camp out.
Breaking News: The Wolf Trap First Time Campers Program has been honored with the 2017 Fairfax County Volunteer Fairfax Volunteer Service Award in the Volunteer Program category.  Congressman Gerald E. Connolly (D-11th District) has entered the program into the Congressional Record.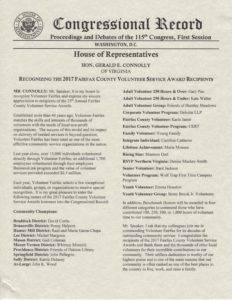 New Years Morning: Wolf Trap First-day Hike January 1, 2017
Eighty hikers of all ages joined in the First-day hike around Wolf Trap National Park for the Performing Arts.
FOWT board members Jack Crosby, Mike Moran, & Alan Day led the hike in near perfect clear, sunny weather.  Most of the hikers were unfamiliar with the natural beauty of the park.  Several of them expressed interest in the First-time campers program that FOWT supports.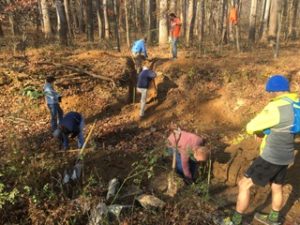 Friends of Wolf Trap Vice-Chair Mike Moran worked with Cinnamon Creek Home Owners Association Parkland Maintenance Officer Tom Burnside organize the relocation of a stream crossing on the connector trail with the Wolf Trap trail.  On 19 November 2016 nine volunteers from Cinnamon Creek, Shouse Village, and Wolf Trap Woods build steps into the banks of the stream.  The existing crossing was being badly eroded by the stream and the walkway had become unsafe.
The connector trail allows hikers to safely go from Wolf Trap to the Fairfax Gerry Connolly Cross County Trail.
The CCHA crew: Mark Cohen – CCHA President, Leigh Scott – CCHA Board member, Storm Rhode, Steve – (Storm's son-in -law), Ken Cameron, Tom Burnside – CCHA Parkland Maintenance Officer; Shouse Village: Kevin Douglas, Mike Moran; Wolf Trap Woods: Luke Bosek.
---
Friends of Wolf Trap supported the Wolf Trap First-time campers camp out 7-8 October 2016.  63 campers from 5th & 6th Fairfax County schools participated.  Click on the link for more details and photos.
---
Wolf Trap National Park for the Performing Arts sponsored a unique camp out experience for 5th & 6th graders who may have limited camping experience. We have a special permit for camping and campfires at the park.  For photos and write-up of the April 2016 camp out for 1st-time campers and information about the fall camp out click here.
---
On April 16, Mike Moran, Friends of Wolf Trap, led Bear Den Pack 1139 on a "Nature's Hide and Seek" trail walk at Wolf Trap National Park of Performing Arts.  Ronalda Meson, an adult volunteer of Friends, assisted and was sweeper. There were 27 people: 20 youths and 7 adults. They were also taught basic hiking principals including leave no trace behind.  The Pack used the Kids-in-the-Park pamphlet check list to self-discover the biodiversity of the trail. They saw a beaver hut, water snake, salamander, turtles, butterflies, variety of trees, flowers and what lives under rocks and old logs. They were shown invasive plants such as garlic mustard and their impact on nature's ecology. Picture below shows kids catching tadpoles and releasing them. Some of the adults were watching a red tail hawk soaring in the sky.
---
Photos of the Wolf Trap First-time camp out October 2015
Photos of the Wolf Trap First-time camp out 17-18 April 2015
Pilot Wolf Trap First-time camp out 28-29 September 2014