Attention:  Monthly events and trail walks/hikes have been suspended due to COVID-19 concerns.  Please visit the Wolf Trap NPS site for the most up-to-date details on the park's status:  https://www.nps.gov/wotr/index.htm
Please also visit our Facebook page for the most up-to-date information on Friends of Wolf Trap events and news: https://www.facebook.com/friendsodwolftrap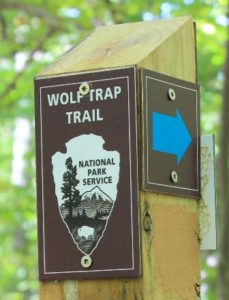 Each month, typically on the first Sunday of the month, Friends of Wolf Trap hosts a Trail Walk at the park.  Hike through the woods, across streams and over to a pond and wetlands area.  Learn about biodiversity, forest succession and sustainable gardens.  There are two overlapping trails in the park that provide opportunities for visitors to hike and bird watch. 
Explore Other Local Trail & Hike Opportunities
Other Interesting Nature & Outdoor Resources
Wolf Trap Page
This website was inspired by a desire to share the wealth of information that has come out of a joint vegetation classification and mapping project of the National Park Service and NatureServe.