Beautiful (if a bit muddy) December Trail Walk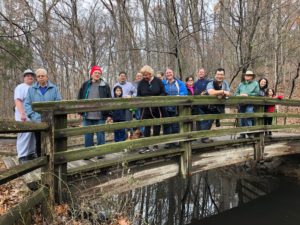 Edgar Deskin (Certified Professional Horticulturist at Wolf Trap National Park) and members of the Friends of Wolf Trap (FOWT) welcomed 26 hikers and one dog today at the #Thankful 4Hiking December trail walk at Wolf Trap National Park for the Performing Arts.  Special guest, Diane Pavek, PhD. (Research and T&E Species Coordinator, Botanist, Natural Resources & Science, National Capital Region) introduced a very exciting new website complete with podcasts and videos as well as an interactive map of the Park:
Explore Natural Communities – Wolf Trap National Park for the Performing Arts
 The site continues to add content so check back frequently!
The trails were muddy and the leaves made it a bit slippery but the sun was out and the temperatures very mild for this time of year.   Thank-you to every one who came out today and thank you again for donating a non-perishable food or pet item. These items will be donated to a local food pantry.
Even dog Lilly had a great time and fell asleep before leaving the parking lot having thoroughly enjoyed her fresh air outing!