People of Wolf Trap: Noel E. Firth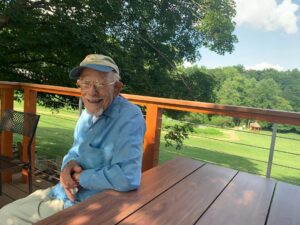 Noel E. Firth, a nature lover, a Wolf Trap regular and, as we gratefully acknowledge, one of our most dedicated supporters.

Noel was born in St. Francis Hospital in Hartford, MA. His father was a master printer with family roots in England, his mother a French Canadian, working as a secretary in a department store. During high school years the family moved to New Haven, CT, where his father, who got a job at Yale University, instilled the love of learning into him. Noel married his high school sweetheart, Joan.

During the Korean war, Noel was drafted into the military. Upon his return, he started college at Yale, where he carpooled with a young professor of economics, Arthur Okun. This serendipitous transportation sharing helped determine his major and eventually his life-long career in government services.

In the late 1950s, Noel's job brought him to Northern Virginia. First to Falls Church and in 1970 to Shouse Village, a neighborhood adjacent to Wolf Trap NP. Over time, Noel became a passionate dog lover. Thanks to his first dog, Winnie-the-Pooh, he discovered Wolf Trap NP and began frequenting the park both for its musical entertainment and natural charm. After retirement, Noel became a dog trainer, specializing in Canine Agility.

Noel has many fond memories associated with Wolf Trap NP. One of his neighbors, a retired army colonel, was a great naturalist who – among other things – was able to spot beavers in the Wolf Trap pond from a great distance (they are no longer there). During the 1976 Bicentennial celebration, the Queen's Royal Marching Band was performing at Wolf Trap and since Noel's neighbors were of Scottish origin, they invited the whole ensemble for a refreshment, which resulted in one of the wildest parties in Shouse Village – in return the band got their white tunics home washed that night.

In Shouse Village, Noel met another neighbor, Mike Moran, who is one of the Founding Directors of the Friends of Wolf Trap. As Noel continues to be very fond of the park's bucolic setting, he supports the Friends of Wolf Trap's mission of conserving the park's natural and historic resources.